This year over 125,000 people
of all ages will die in accidents in the U.S.
Over 35,000,000 (about 1-in-8) of us will
suffer injuries that require medical attention.
Some of these injuries are life-altering.
These statistics show that accidents can happen to anyone.
Your attention to off-the-job safety will help your employees
and their families avoid being included in future statistics.
Are You Looking For Easy-To-Use Safety Articles That Will Help You Reduce On-The-Job And Off-The-Job Accidents?
The Award-Winning Material In The
Safety Times Reproducible Articles Will Help You:
1. Reduce your workers' comp cases.
2. Increase your productivity and profits.
3. Help your employees and their families avoid accidents, particularly serious accidents.
According to a recent National Safety Council study:
"Statistical analyses indicate that companies promoting
Off-The-Job safety have lower workplace injury/illness rates."
____________________________________
The Reproducible Articles are reader-friendly.
A unique feature of the Reproducible Articles is the use of introductory
light-humored illustrations and true stories to help get the points across.
All it took to turn a routine April morning commute into a 98-car nightmare of wreckage and mayhem was a little rain, sudden bright sunshine, and some careless drivers.
"This is a wreck that just didn't need to happen," said a spokesman for the Missouri Highway Patrol in St. Louis. "The real blame is on people driving too fast for the conditions and following each other too closely in inclement weather. Vehicles were kicking up a lot of mist and causing glare. Someone looked ahead and saw traffic backed up, hit the brakes, and then started to skid. That's how this whole mess got started."
For about 40 people, the pileup ended in an emergency room. Amazingly, no one ended up in a morgue.

Click here for a
Complimentary 10% sample of the Reproducible Articles
You may download and use these articles - no charge
____________________________________
How The Safety Times Reproducible Articles
Will Benefit You And Your Company
● Reduce on-the-job accidents by instilling 24-hour safety attitudes. Safety is not a switch you turn on when you come to work.
● Improve on-the-job productivity. Sixty percent of lost-time injuries are due to off-the-job accidents.
● Reduce workers' compensation claims related to off-the-job injuries.
● Improve your safety culture and employee morale.
● Help your employees and their families avoid fatal and other serious off-the-job accidents by giving them information they need to develop Personal Safety Plans.
● Lower medical and other expenses. The National Safety Council estimates off-the-job accidents cost employers over $700 per employee per year in medical and other costs. Costs approximate $1,000 per employee per year when you include medical costs for dependents.
* For a worksheet to determine your costs, click here.
● Many topics have direct application to on-the-job safety issues, particularly driving.
____________________________________

We offer two options to help you instill 24-hour
safety attitudes, and reduce on-the-job and off-the-job injuries.

(1) The Safety Times Reproducible Articles,
a library of 129 safety articles that may be copied.

(2) The Safety Book For Your Family, which is an e-book.
You may print copies of the book for your employees.

You may edit the book and use your own cover if you wish.

The goal is to encourage employees and their families to
develop 24-hour Personal Safety Plans, at work and away from work.

More information on the book is available below.

____________________________________
The Safety Times Reproducible Articles

How You May Use The 129 Reproducible Articles
● Use the articles or excerpts in your publications, bulletins, or paycheck inserts.
● You may make as many copies of the Reproducible Articles as you wish for safety meetings, bulletin boards, etc. You may add your logo. Encourage employees to share the safety tips with their families.
One valuable use of the articles is in safety meetings, with employees sharing stories of accidents and near-misses to drive home the importance of 24-hour safety.
● Use the 129 articles and 3,000 safety tips to send e-mails to employees to build safety awareness and 24-hour safety attitudes.
● You may set up a website of the articles so employees can access off-the-job safety tips. For example, the driving articles will help parents with teenage drivers.
● Send the articles to other safety leaders in your organization.
● The text and illustrations are in Microsoft Word format on a CD. You can easily excerpt or modify the text and the illustrations. The articles are also available in a downloadable PDF format.
____________________________________
As our Partial Client List shows, many leading organizations recognize the value of using the Safety Times Reproducible Articles in their safety programs.
Click List of Topics to see the complete list of the 129 Articles you receive.
20 Driving safety topics
30 Home safety topics
49 Leisure & General safety topics
30 Kids' safety topics
Over 120 Illustrations and 80 True Stories
make the Reproducible Articles interesting, relevant, and readable.
____________________________________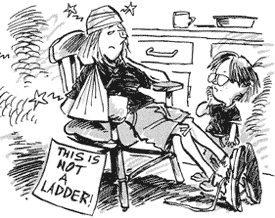 Click here to see what safety experts for leading companies say about off-the-job safety, and how it will benefit your operations.
As one recent purchaser of a Safety Times product said,
"If all our efforts prevent even one accident it will be worth it."
Click here to receive a downloadable PDF book chapter written by the author and publisher that shows you how to organize and implement an off-the-job safety program in your company.


article quoting the author and publisher on off-the-job safety.

If you purchase one of our products and do not like it for any reason,
just let us know. We will promptly refund your money. You may keep the product.


Why Every Member Of Your Team
Needs A Personal Safety Plan

We have an "Accident Epidemic" in this country. This "epidemic" affects far more people than the viruses that grab the headlines.

With a Personal Safety Plan, we significantly reduce
our chances of being involved in a serious accident.

Without a Personal Safety Plan, these are the odds we face.
Over 125,000 Americans will die accidentally in the next twelve months. Over 35,00 on the roads, over 60,000 at home, and over 25,000 in public locations.

Lifetime odds of dying accidentally are about 1-in-30 for males (more than 3%), and 1-in-50 for females (2%).

Accidents are the leading cause of death for kids, teens, and young adults, ages 1 to 41.

Every year over 35,000,000 (1-in-8) of us need medical attention due to off-the-job accidents, 20,000,000+ are temporarily disabled, and 200,000+ are permanently disabled.
Click here for more statistics and the calculation of the odds
As the following examples show, the good news is that
a planned approach to safety makes employees and families safer.
The DuPont company has a comprehensive off-the-job safety program. Its employees and their families have far fewer off-the-job accidents than the national average.
A program by the U.S. Navy emphasizing off-duty recreational safety has reduced fatalities by about 50 percent.
Nearly 70 percent of boating fatalities involve an operator who didn't take a boating safety class. Boating fatalities are down over 50% in the last 30 years due to an emphasis on safety.
Additional studies by the National Safety Council prove that off-the-job safety efforts reduce accidents.
Also, on-the-job fatalities have declined significantly over the years due to a safety emphasis and the safety training provided to employees.
Reproducible Articles Background
The Safety Times Reproducible Articles are the product of more than ten years' research. Nearly all of these updated topics were published at least twice in the Safety Times newsletter from 1992 through 2002.
The Reproducible Articles are updated periodically every year as new statistics and information become available.
The information for each topic comes from many sources. Before publishing each topic in the newsletter, the topic was reviewed by at least two CSPs (Certified Safety Professionals), or by a CSP and a subject-matter expert. Children's topics were reviewed by a representative of the Safe Kids Worldwide organization; boating topics by the United States Coast Guard; the chainsaw topic by a safety trainer for a chainsaw manufacturer, and so on.
The circulation of the newsletter exceeded 20,000; pass-along readership, however, was considerably higher, as some recipients paid for the privilege of copying the material. Safety Times clients have included Alcoa, Avery Dennison, Boeing, Dow Corning, ExxonMobil, General Motors, Georgia-Pacific, Honeywell, SBC, Sprint, the U.S. Postal Service, and hundreds of other corporations and organizations.
These articles also appear in the award-winning book, Live Safely in a Dangerous World.
____________________________________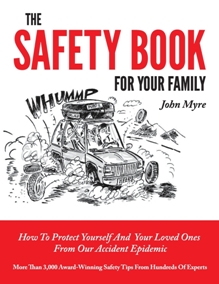 Click here to see how
The Safety Book For Your Family benefits your employees

The

Safety Book For Your Family is an updated e-book version of our original paperback book, Live Safely in a Dangerous World. The e-book has updated statistics and contact information, and a few new safety tips.

Book awards and reviews for Live Safely in a Dangerous World

Live Safely in a Dangerous World was selected from over 1500 entries as one of the Ten Outstanding Books of the Year in the 2003 Independent Publisher Book Awards competition.

Live Safely in a Dangerous World also won the award as
"Most Likely To Save The Planet" in the 2003 Independent Publisher Book Awards competition.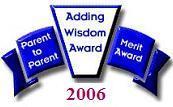 Live Safely in a Dangerous World
is a proud winner of the 2006 Parent to Parent Adding Wisdom Award,
the only award program to ever be honored by Disney.com.
"Our Family Testers found Live Safely in a Dangerous World to be a great resource for not only commonly overlooked dangers but potential dilemmas we never considered. We have an accident epidemic in today's society and this book provides information to develop customized Personal Safety Plans for every family member. A true treasure and a must have for every household!" ~ Jodie Lynn, syndicated parenting/health expert, CEO/founder of www.AddingWisdomAward.com, and author of parenting book, Mom CEO (Chief Everything Officer) - Having, Doing and Surviving It All! (June 2006).
"Cartoon-style illustrations add a touch of light humor to this very serious and practical guide to minimizing the odds of dangerous or fatal accidents… a well-rounded, erudite, and first-rate primer warning of obvious and subtle daily hazards. Highly recommended; careful perusal of the pages could potentially save lives."
— Rated 5 of 5 stars on Amazon by The Midwest Book Review

"A must for every family! Safety tips that could save your life or the life of a loved one."
— Howard J. Chapel, D.C.
Diplomate of the American Board of Chiropractic Orthopedics
"A wealth of safety information, and in a very useful format. This clear, concise guide creates a safety awareness that is important for everyone."
— Christy L. Tharenos, M.D.

The book won a 2003 Writer's Digest nonfiction category award.
In addition to the awards for the book, a publisher in China has published a Chinese-language edition.
Click here for information about the background of the book and author

Thank you for visiting and for your support in reducing on-the-job and off-the-job accidents. Please tell your friends and associates about this website and our services.
Your comments and suggestions are welcomed. Please use the Contact Us links or give us a call.

John Myre, Author and Publisher

Contact information
John Myre
Safety Times
1265 Rogue River Ct.
Chesterfield, MO 63017

Phone: 636-733-2330
Fax: 206-339-8552

E-mail: sfttimes@swbell.net
________________________________________________________
For more ways to reduce accidents, visit these links.
Fighter Pilot give outstanding motivational
safety keynotes to workers and leaders.
Click here to go to TargetLeadership.com , or click on the picture.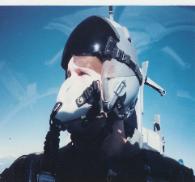 ________________________________________________________
Incentive based safety program - AboutExcellence.com
The Safety Book For Your Family