Safety Tips To Keep Your Family Safe

More Book Reviews for Live Safely in a Dangerous World

Live Safely in a Dangerous World


is a proud winner of the 2006 Parent to Parent
Adding Wisdom Award, the only award program
to ever be honored by Disney.com.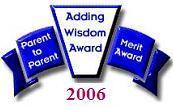 "Our Family Testers found Live Safely in a Dangerous World to be a great resource for not only commonly overlooked dangers but potential dilemmas we never considered. We have an accident epidemic in today's society and this book provides information to develop customized Personal Safety Plans for every family member. A true treasure and a must have for every household!" ~ Jodie Lynn, syndicated parenting/health expert, CEO/founder of www.AddingWisdomAward.com, and author of parenting book, Mom CEO (Chief Everything Officer) - Having, Doing and Surviving It All! (June 2006).
"A must for every family! Safety tips that could save your life or the life of a loved one."
— Howard J. Chapel, D.C.
Diplomate of the American Board of Chiropractic Orthopedics
"A wealth of safety information, and in a very useful format. This clear, concise guide creates a safety awareness that is important for everyone."
— Christy L. Tharenos, M.D.

"It is a powerful resource for ... safety approaches to just about every possible topic. This book provides 127 easy-to-read articles with practical insight into important accident prevention and safety information. Following the strategies in this guide can save your life.
— Pittsburgh Area Brain Injury Alliance
"... Topped off by inclusion of a sample personal safety plan and a comprehensive index, Live Safely in a Dangerous World is simply one of the finest safety reference books around, accessible and effective in its valuable reminder that all times are safety times. Play it safe — buy it without thinking twice."
— The Boox Review
"This is a worthwhile, readable volume ... and it is organized for easy reference. ... if more of us took Myre's suggestions to heart, our world would be a lot safer."
— St. Louis Post-Dispatch

"An especially important book: practical, clear, personal, and refreshingly readable. A first-rate safety guide for everyone."
— Dick Darling, V.P.
R. F. Haack and Associates
"Live Safely in a Dangerous World is a common-sense guide that every household should have in plain sight. It is a wonderful resource that you can flip through to help remind you of the little things that you haven't thought about recently. The information that applies directly to you and your family should be reviewed at the beginning of each seasonal change: not to make a nation of paranoids, but to create a nation of safe, responsible individuals."
— Julie Failla Earhart
Award-winning author, writer, speaker, and editor
Home | About the Book | Sample Pages | Press Room | Ordering |
Reproducible Articles | Contact Us |