Press Room
The author, John Myre, is editor and publisher of Safety Times, a safety publication for companies and organizations that he founded in 1992. He is a former financial and risk management executive (34 years) for SBC (Southwestern Bell Corporation). His credits include several articles on safety including these publications:

Business Insurance
Professional Safety
Safety and Health Management Planning
Chapter 30 - Off-The-Job Safety


John has been a speaker at the VPPPA (Voluntary Protection Programs Participants' Association) convention, American Society of Safety Engineers Convention, Ohio Safety Convention, and Missouri Safety Convention.

His talk focuses on the benefits of an off-the-job safety program for an organization, the importance of developing Personal Family Safety Plans, and how to develop Personal Safety Plans.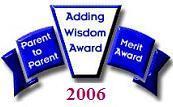 Awards for Live Safely in a Dangerous World
Live Safely in a Dangerous World was selected from a field of over 1500 entries as one of the Ten Outstanding Books of the Year in the 2003 Independent Publisher Awards competition.
The book won the award for the category "Most Likely To Save The Planet." Normally, the award goes to an environmental book, but the committee believed the book will save lives around the world.
The book also won a 2003 Writer's Digest nonfiction category award.
In addition to the awards for the book, a publisher in China has published a Chinese-language edition.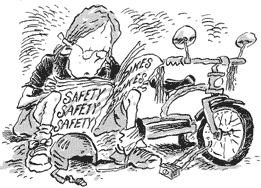 Large images: Front Cover Back Cover
Click here for Author Interview
Excerpts from Reviews
"This is a worthwhile, readable volume ... and it is organized for easy reference. Of course, not all accidents can be prevented. Still, if more of us took Myre's suggestions to heart, our world would be a lot safer."
— St. Louis Post-Dispatch
"You may find yourself muttering "I knew that!" after reading each of the hints about keeping yourself safe in your auto, home, RV, trampolines, swimming pools; in the snow, the rain, on the golf course etc., etc., however, remember the old saying: "accidents will happen."
One of the things Live Safely in a Dangerous World consistently reminds us of is that many of the things we use are not toys, they are serious machines or phenomena which will cause death, or at best life-long injury.
With a superb Information Source & Index, Live Safely in a Dangerous World is a handy handbook to have around the house, on vacation & in your car."
— RebeccasReads (Top 500 Amazon reviewer)
"Intelligently organized and presented manual for the accident prone set (and the rest of us too), Live Safely in a Dangerous World is an eye-opening almanac of statistics, solutions and peace of mind.
Author Myre delivers here a magnificent manifesto for year-round safety and sanity, staging his presentation along four main fronts: Driving Safety, (city driving, expressway driving, rural roads, and yep, there's even a chapter devoted to road rage, a.k.a. "rudes of the road"); Home Safety (includes chapters on barbecues, fire detection and response, firearms, ladders and lawn mowers); Leisure and General Safety (bees, bowling and chainsaws, too) and Kids' Safety, which runs the A-Z gamut of accident possibilities and their prevention, including a chapter on the what-to-do's about sexual abuse.
Topped off by inclusion of a sample personal safety plan and a comprehensive index, Live Safely in a Dangerous World is simply one of the finest safety reference books around, accessible and effective in its valuable reminder that all times are safety times. Play it safe — buy it without thinking twice."
— The Boox Review
"It is a powerful resource for common-sense safety approaches to just about every possible topic. This book provides 127 easy-to-read articles with practical insight into important accident prevention and safety information. Following the strategies in this guide can save your life.
— Pittsburgh Area Brain Injury Alliance
| Home | About the Book | Sample Pages | Press Room | Ordering |
Reproducible Articles | Contact Us |

Testimonials from Readers:
"A wealth of safety information, and in a very useful format. This clear, concise guide creates a safety awareness that is important for everyone."
— Christy L. Tharenos, M.D.
"A must for every family! Safety tips that could save your life or the life of a loved one."
— Howard J. Chapel, D.C.
Diplomate of the American Board of Chiropractic Orthopedics
"An especially important book: practical, clear, personal, and refreshingly readable. A first-rate safety guide for everyone."
— Dick Darling, V.P.
R. F. Haack and Associates
"Live Safely in a Dangerous World: How to Beat the Odds of Dying in an Accident is a common-sense guide that every household should have in plain sight. It is a wonderful resource that you can flip through to help remind you of the little things that you haven't thought about recently. The information that applies directly to you and your family should be reviewed at the beginning of each seasonal change: not to make a nation of paranoids, but to create a nation of safe, responsible individuals."
— Julie Failla Earhart
Award-winning author, writer, speaker, and editor